This has been a great week of learning for our 6th grade students. Here is what we covered in Hebrew on Wednesday, October 14 and Sunday, October 18:
Hebrew – Trope
On Wednesday we began learning the Sof-Pasuk clause of Torah Trope. Whenever we begin learning a new symbol or clause of trope, we start by chanting the name of the symbol along with a hand sign. Then we write the name of the symbol in Hebrew and transliteration. Then we learn what other symbols belong with that group, or clause. This week we introduced the Sof-Pasuk clause, which includes the symbols:
Mercha מרכא
Tipcha טפחא
Sof-Pasuk סוף-פסוק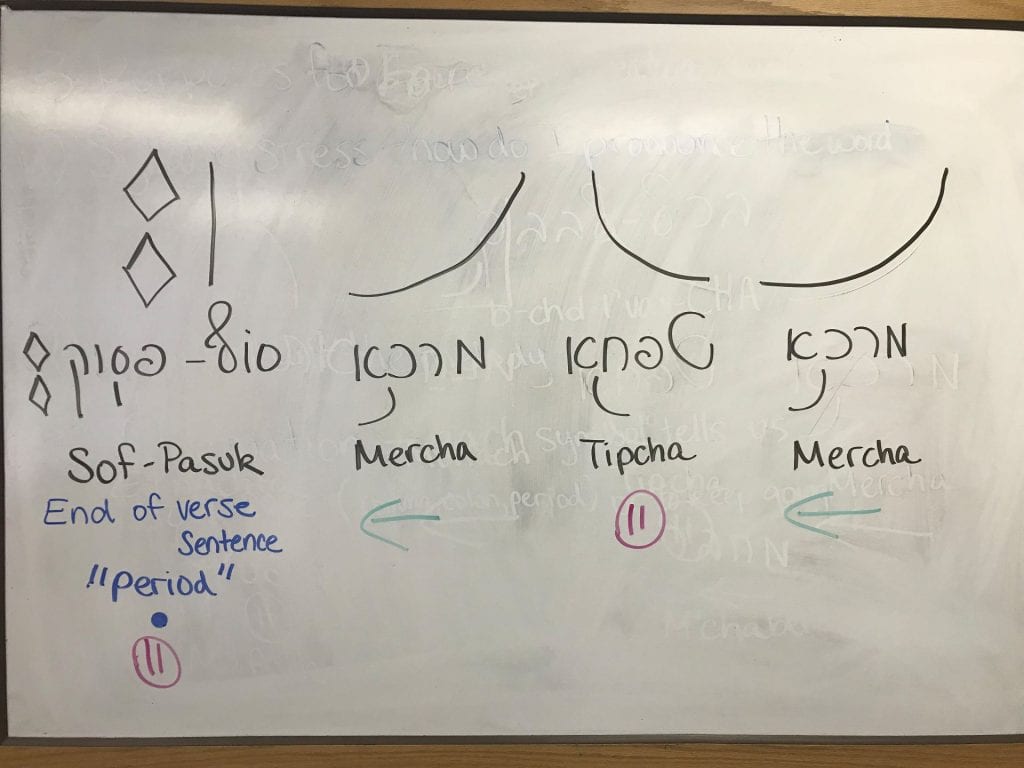 The Sof-Pasuk clause, is color-coded using a pink highlighter. We identified the symbols in on our Trope Clause sheet as well as part of the V'ahavta. If your student would like to practice this clause at home, or was absent from class on Wednesday, please check out the following video from our Trope page:
Sunday – LaBriut, Sukkat Shalom Week #1
Today we began learning the first unit of LaBriut, Sukkat Shalom. We learned that Sukkat Shalom סכת שלום means: a shelter of peace. We discussed the ways a Sukkah סוכה, a temporary structure, might offer us shelter, and how feeling peaceful can lead to feeling safe and secure. Each Sunday, your student will receive a Challenge Video and Challenge Card. This week's assignment can be completed on Flipgrid here: https://flipgrid.com/48e0b646, or by logging into our Flipgrid classroom, entering your student id (first initial, and last name), and selecting the Topic: Sukkat Shalom Challenge #1. This challenge is due by next Sunday, October 25, and is worth 100 Mitzvah Points.
You can keep the learning going each week at home, by engaging in the weekly Family Schmooze! Click here to read this week's Family Schmooze topics.
There is also still time for students to complete their 30 second All About Me Video. The deadline has been extended to next Sunday, October 25, and is worth 50 Mitzvah Points.
Mitzvah Points
In a regular year, we would be in a physical classroom and have the ability for students to present their projects and assignments, and for students to comment and interact on each other's work. This year, as we are not physically together, we are using Flipgrid to post assignments and to comment and interact digitally. In order to encourage students to post their assignments on time each week, I have created a system of Mitzvah Points (MP). Students receive MP for completing their assignments and challenges (50-100 MP), for commenting and interacting with other student's work (10 MP), for attending services either streaming, on Zoom, or in person (36 MP), and for being caught doing acts of kindness or mitzvot (Caught Being a Mensch 18 MP).
As students earn points, Morah Erin and I will keep track of their points here on this google sheet: https://docs.google.com/spreadsheets/d/1v-fc0pOiZpgmKeYr8WvhrfObLKg7GApFBz5ER7i9W4M/edit?usp=sharing. Each class, students can report their points (assignments, attendance at services etc.) to the teacher, and one of us will log their work. The goal is to earn 3600 Mitzvah Points by the end of the school year. In Judaism, the number 18 means Chai חי, or 'life'. Multiples of chai, or 18, are considered good luck. Our goal is for each student to reach at least 1800 MP, and 3600 by the end of the year.
You can help, by encouraging your student to get caught being a mensch. If you catch them doing a good deed, or a mitzvah for another, let me know and I will give them kudos and 18 MP. After all, Mitzvah Goreret Mitzvah, one mitzvah begets another.