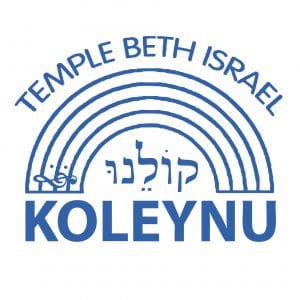 Koleynu: The Temple Beth Israel Adult Choir
Koleynu rehearses weekly at Temple Beth Israel on Thursdays from 7:00-8:30 pm during the school year. Koleynu adds beautiful music and harmony to our worship services throughout the year and for the High Holy Days. Koleynu is open to any TBI member or prospective member, who loves to sing, and is age 13-120! Koleynu is 30 members strong and we are always looking to add to new singers. Contact Director of Music, Marla Aviva Bentley to learn more.
Koleynu is conducted by Marla Aviva Bentley, Director of Music
Jennifer McCabe, Pianist
Members of Koleynu
Soprano: Harriet Arons, Riva Blechman, Marianna Tax Choldin, Laurie Kimmel, Jamie Kimmel-Choldin, Debbi Kohl, Kathy Kornbluth, Helene Levine, Patti Levy, Frances Meyer, Susan Reisberg, Becky Reuhs, Gabrielle Rodriguez, Cynthia Roth-Garfield, Paula Sabin, Barbara Slivnick, Linn Ullenbrauck
Alto: Michelle Blechman, Kathy Craine, Minna Einhorn, Aviva Goldman, Nina Henry, Sharon Levine, Marcia Satyr, Judith Simon, Ellen Sontag
Bass: David Henry, Michael Ostrar, Marty Rabinovitz, Gary Zimmerman
Professionals of the High Holy Day Choir:
Joseph Cloonan, Samantha D'Adamo, Liana German, Brian Hupp, Aaron Lewit, Nancy Wiebe Mazurowski, Philip Seward, Marissa Simmons, Ryan Townsend Strand
We remember those Koleynu members who have passed into the heavenly choir:
Marvin Einhorn (Tenor), Mary Roth (Tenor), Steven Schmerer (Bass), Sheldon Solovy (Tenor)
May their memories be for blessing.
Temple Beth Israel
3601 W. Dempster Street, Skokie
www.tbiskokie.org