New Hebrew Pods Beginning 1/6/21
Last week, Lori Sagarin wrote to all the 6th grade families explaining that we will be shifting the Hebrew pods on Wednesdays when we return from break. Morah Erin and I believe that our new hour long format on Wednesdays will allow for greater student success. We hope the additional time each week can be used for further practice, review and time to answer student questions. We have carefully crafted the new pods based on a variety of factors – cohesiveness, range of abilities, peer dynamics, and known schedule conflicts. We announced the make up of the new pods last Sunday in class, and will once again post the lists here. New Zoom links will be emailed to each family next week from Mari, and will also be posted on the TBI Zoom School page. If you know of a weekly conflict that will prevent your student's attendance in the new pod, please let us know right away, so we can do our best to accommodate your families needs. As always, for an occasional conflict, such as doctors appointment, your student can attend the opposite pod. We always appreciate a brief email or phone call letting us know of any changes.
Pod #1 Wednesdays 4:00-5:00 pm with Morah Marla
Pod #1 Zoom Link
Ethan
Hannah B.
Talia
Lucas
Samantha
Sophie
Lily
Pod #2 Wednesdays 5:00-6:00 pm with Morah Marla
Pod #2 Zoom Link
Louis
Benjamin
Charlie
Hannah K.
Adam
Emilia
Pod #3 Wednesdays 5:00-6:00 pm with Morah Erin
Pod #3 Zoom Link
Noa
Josie
Jaedon
Ava
Hannah L.
Eve
Eleanor
Practice and Catching up on Assignments Over Break
We are now on break from Beit Midrash until we return on 1/6/21. Over break is the perfect time for your student to catch up on any work they may have missed so far. All Trope and LaBriut assignments on Flipgrid are available to make up missed work. In Trope, all students should have completed the trope assignments available through R'vii #1. With all pods having completed the first part of the R'vii clause, your student should begin work chanting the V'ahavta in trope. There are several resources to help practice: V'ahavta with color-coding, video of chanting V'ahavta in trope with hand signs, and an audio recording of a previous 6th grade class chanting. At the conclusion of our Torah Trope unit, each student will be asked to chant the V'ahavta in trope as a part of their Torah Trope Challenge. The second part of Torah Trope Challenge will be chanting the Blessings before and after Torah.  We will likely have the Torah Trope Challenge in the beginning of February.
If you are unsure if your student has completed their assignments, you can login to Flipgrid using their passcode (first initial and last name, example: https://flipgrid.com/marlabentley passcode: jsmith). You can also get an at a glance look at assignments by viewing the Mitzvah Points Chart here: https://docs.google.com/spreadsheets/d/1v-fc0pOiZpgmKeYr8WvhrfObLKg7GApFBz5ER7i9W4M/edit?usp=sharing. For LaBriut, students should have assignments complete through Ometz Lev #3.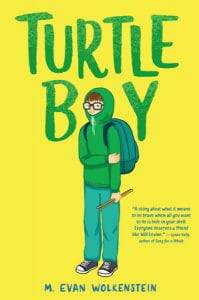 Author Event – January 17
The author of the book Turtle Boy, M. Evan Wolkenstein, will be coming to TBI (virtually) on Sunday, January 17. That day, we will meet as an entire class during the 9 am class, and then meet with the author and 7th grade during the 10 am hour. We have been reading Turtle Boy for a few minutes at the end of each class on Sundays. Lori Sagarin has suggested that each student continue reading on their own over break (we left off at chapter 6, page 34), so they will be ready for the author when we return. Each family should have a copy of this book, given out at the start of the year to every 6th and 7th grade student. Encourage your student to think of some questions they would like to ask the author.
B'nai Mitzvah Seminar Photo
Some families requested a picture of the white board Rabbi Weinberg showed us during the last seminar, detailing the outline and themes of a Shabbat service. Here it is for your review: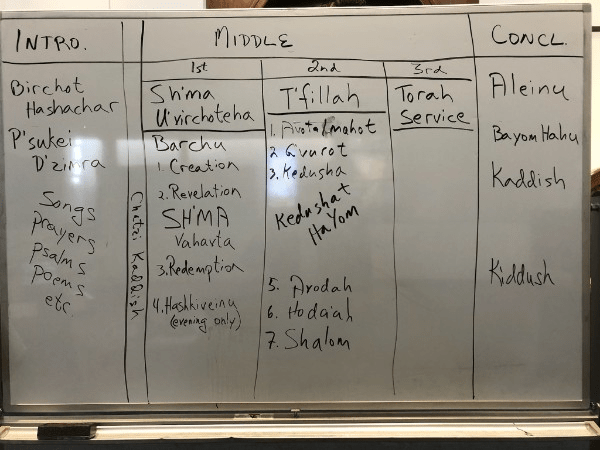 I hope you and your families have a safe and relaxing Winter break!
Morah Marla